Future Doll - A silicone sex dolls manufacturer
What is Future Doll ?
Future Doll is a silicone sex dolls manufacturer based in Dongguan City, in China. They started in 2020 which is quite recent. But if the company is new in the industry, the team is not. Future Doll is the result of the merging of different silicone sex dolls manufacturer, including HitDoll, that was the first manufacturer of silicone dolls in China, 10 years ago. You certainly have heard about this company if you want to buy a silicone doll in the past.
Why buy a sex doll from Future Doll ?
Compare to sex dolls made of TPE (Thermoplastic Elastomer), there is not so much manufacturer when it comes to silicone dolls. Indeed, Future Doll is the only manufacturer that makes quality silicone dolls for a unit price lower than $3000. That is why, at MySiliconeLoveDoll, all our silicone dolls come from this brand. We don't want to sell silicone dolls from other brands, because we think this sex doll brand has by far the best quality / price ratio.
So if you are looking for a silicone doll, you came to the right place. When you buy a sex doll from Future Doll you can be sure that you won't be disappointed, their sex dolls are EXACTLY as they look in their photos.
About sex dolls from Future Doll
Made entirely of high grade silicone, the skin of sex dolls from Future doll is very soft and ultra realistic. They are fully articulated thanks to their sophisticated metal skeleton. They can hold many different sexual positions, they even can stand on their own if you choose the "standing feet" option. They have a very realistic vagina and an anal hole so. they are capable of vaginal and anal sex.
Their breasts are also ultra realistic and very soft. It is a real pleasure to play with them, to squeeze, and lick them. Feel free to lick them because there is no toxic substance on the skin.
Mechanically movable eyes, for easier pupil rotation.
Flexible skeleton, hands and feet.
Quick head connector.
Shrugging shoulders.
Implanted eyebrows.
Implanted lower eyelashes.
Hairs can also be implanted, but this is not a free option. Future Doll will change us about $300 for that.
Unlike TPE skin, silicone skin can have tattoos or piercings. But unlike some other TPE dolls manufacturers, they don't provide the heating and moaning options.
Not only Future Doll manufactures high quality silicone dolls, but they also provide a lot of customizable options, as we will see in the next paragraph.
Are love dolls from Future Doll customizable ?
Absolutely. Sex dolls from Future Doll come with different customizable options. First, you can choose the wig (we have different styles and hair colors available). They also can implant hairs. But this is not a free option and will cost about $300. Of course, if you decide to go for implanted hair, you won't be able to change the hairstyle of your doll in the future.
You can also choose the eye color. We do have blue, purple, brown or green. Both wig and eyes are easily switchable. We can offer a free wig or pair of eyes if you want, feel free to let us know via the "order note" of the custom form.
You can also select the tone of the skin. So far, this love doll brand offers 3 different skin tones : pale, caucasian or tan.
If you choose to go for the "standing feet" option, your Future Doll will be able to stand on her own.
The vagina can come with or without pubic hairs.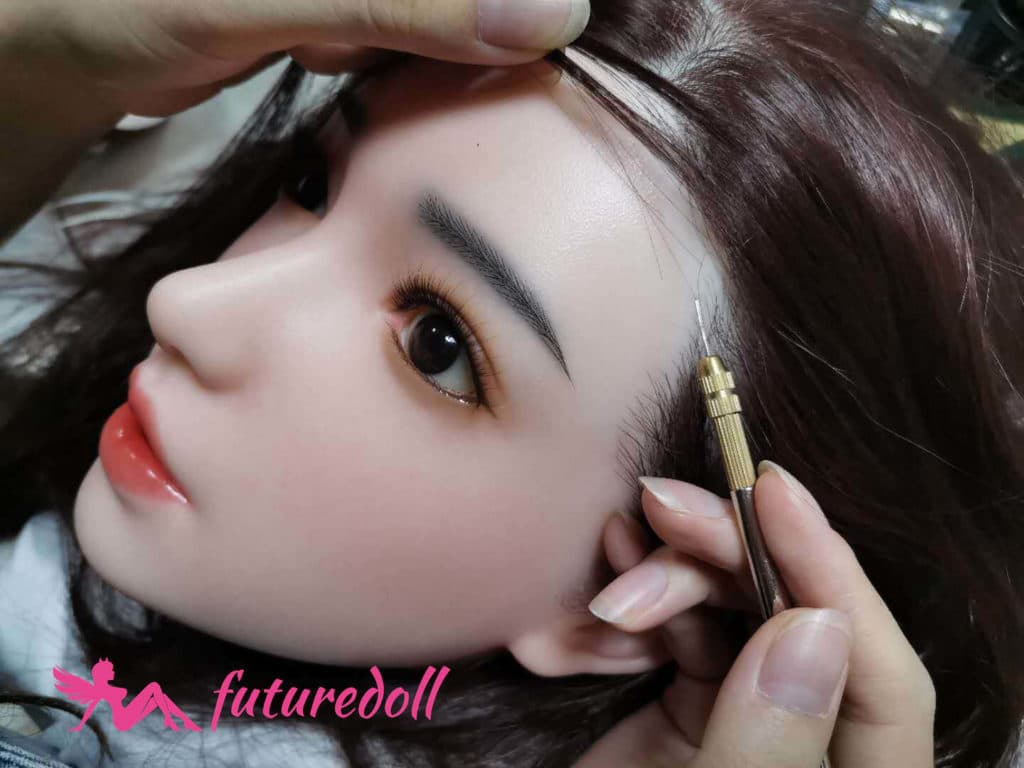 Manufacturing and shipping time
We need about 8 days to make your doll and then one week for the shipping, from Future Doll's workshop to your door thanks to UPS International. When your doll is ready to be shipped, we will send you by email a tracking number so you can monitor the delivery online. If you want to avoid home delivery, you can request that UPS keep their doll in their facility so you can pick up your doll as the date and time of your convenience.
Daily care
We will see here some very important recommendation to keep your Future doll in good condition :
– Store your sex doll at room temperature
– Avoid humidity. Don't hesitate to buy a dehumidifier if you think your place is too humid, (ie : if you live in Florida).
– When removing your doll's makeup, please do so gently using a mild makeup remover.
– Silicone has a slightly sticky surface so you should lightly dust your doll with talcum powder before putting on any clothing.
– Remove your future doll's head before putting clothes on its upper body.
– Take care not to bend or raise your doll's arms beyond their limitations (similar to that of a person) as this may cause fractures in the silicone.
– To avoid wearing out the underarm or on other parts of the skin, please keep arms and legs straight and parallel with the body when not in use.
– Very important. When you don't use the future doll, remove all the clothes, as the fabric may fade on the skin if the clothes and the skin touch each other for too long.
– Beware of dogs or cats !
Make sure that none of your doll's clothing has sharp edges that touch the skin as this may also damage the silicone.
For more information about this topic, you can read our article about how to store your sex doll.
Where can I buy sex dolls from Future Doll ?
As this silicone sex dolls manufacturer don't work with "brick and mortar" sex shops, the best way to buy their dolls is on online store like our.
MySiliconeLoveDoll is proud to be an authorized reseller of Future Doll.
Discover our sex dolls collection from Future Doll
You can find below all our sex dolls from this brand. Feel free to contact us via our contact form if you need any information about our dolls.
Choose your options below to customize your doll before your purchase !