Sale!
Sasha 165cm Real Sex Doll
165cm (5ft4in) G-Cup TPE Adult Doll
From 1490
From 1490
Sasha is a beautiful Russian adult doll that settles in Pattaya to fulfill her obsession of public lewdness
Introducing the gorgeous Russian adult doll, Sasha. Originally a native of Russia, Sasha left her motherland for Thailand not a few years ago. And why not?
She is an elegant dancer and she has the dream body for every woman and just the right one to have men drooling all day and night. Well, she now dances in the famous Go-go Bar of Pattaya in Thailand.
Sasha admits that she was jaded with life in her motherland and needed to relocate to a place where she could use her body to make some extra cash while heartlessly leaving the mouths of men wide open. "The culture of Thailand is an amazing one and I've always connected with it. So, finding my way here was like a dream come true to me," she affirms.
A very provocative sex doll
You would think that she chose the Go-go Bar to drown herself in the free vodka that every man is offering. Right? Well, that's not it. Sasha puts it across that she doesn't fancy vodka, but the stare that lustful men give her while she dances to the rhythm of the music at the Bar.
According to the patrons, Sasha is very provocative. In fact, one of them admits that Sasha's pleasure comes from the excitement of the crowd. "She has tricks that will leave you helpless on the floor," he adds.
And while she admits to loving her job, Sasha is not ashamed to confess that the best part of her job is when he finally gets home from work. As hours go by, she yearns for a soft yet firm grip as you slowly find yourself in between her legs and bang her from behind as she struggles to get some support from the wall. You want this, don't you?
Her sexual thirst is one that cannot be quenched in a night
She wants you to wake her up with your dick in her mouth. "I love blowing a hard dick in the morning, it keeps me on during the day." Working in the Go-go Bar means that her shift doesn't start until later in the evening. So, what's the hurry boy? You have her to yourself all day, make her beg for your mercy.
"It's not every day that I wait till I get home," she starts. "Sometimes the thirst is too much we end up in the changing rooms at work. I have banged at least 5 of my co-workers and a couple of the patrons. I just can't get enough." Sasha, however, admits that if she was to get a strong man who will be there to thump her every time, she will take care of her and pleasure him well that he will never think of another woman apart from her. Are you the one?
Order Sasha and you can be sure that your dull nights will be a thing of the past.
Adult Doll Sasha stands at 5ft 4inches and weighs about 79 Ibs (36 kg). Her cute face, large boobs G-Cup and perfect ass are a combination that you'll definitely enjoy waking up to every morning.
Sasha can pleasure you with all her holes; the vagina, the mouth, and anal. All the orifices are specially designed to improve the grip when in use which further heightens the sexual pleasure. "Feel free to play with my breasts. Oh wait, you want some boob job? Come here, boy!"
This adult doll is made from human-like TPE material
It's not only soft to touch but also clinically healthy. Sasha is articulated on a steel skeleton as well as movable joints to help her maintain a pose during sex as well as when in storage. On the other hand, the movable joints come in handy as they help the sex doll to maintain numerous positions during sex allowing you to enjoy the experience to the maximum.
So, check out all the details and specifications of this Russian sweetheart. She's a dime that is looking for a reliable dick. You got that, don't you?
My Silicone Love Doll is certainly the hot spot for all your sex doll needs.
We have been tried and tested and excelled in quality, affordability, and business excellence. We work closely with some of the biggest manufactures in the industry to provide you with the best sex doll selections in the market.
Additionally, we have over the years demystified the process of ordering and delivery of sex dolls to just 3 weeks. We pack using unlabeled materials to enhance the client's privacy and offer free shipping worldwide.
---
Dimensions
Height: 5ft4 (165cm)
Weight: 79lbs (36kg)
Waist: 22in (58cm)
Hips: 35in (90cm)


Bust
Breast: G-Cup
Bust: 35in (91cm)
Under Bust: ..in (..cm)

Materials
Soft realistic TPE skin
Metallic Skeleton 100% articulated


Sexual Holes
Vaginal Sex: 6.7in (17cm)
Anal Sex: 6.2in (16cm)
Oral depth: 5.5in (14cm)

---
Description
Genuine 6YE love Doll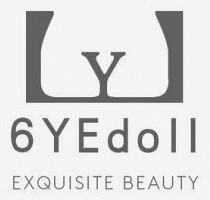 This is a TPE sex doll from 6YE High-end TPE Life-like Sex Doll Brand.

What Makes 6Ye Premium Dolls So Great?
A patented skeleton that can move flexibly, especially like human circular motion, premium TPE formula only, Durability of product, highly realistic and detailed body parts and innovative Head Connector.




Key Features
Ready for vaginal, anal and oral sex
Soft realistic TPE skin
Steel frame fully articulated
Can hold pose
You can customize your doll easily
Head easily switchable
Wig easily switchable
Eyes easily switchable

Extra head, wig and eyes can be bought separately
Vagina & Anal photos
Reviews